Raaga: Hansadhwani
Tala: Adi
Lyrics: Sri Purandaradasa
Language : English
Gajavadana Beduve – ಗಜವದನ ಬೇಡುವೆ
Om Gam Ganapataye Namaha
Om
gajavadana bEDuve | gouri thanaya
gajavadana bEDuve
trijagavaMditane sujanara porevane ||pa||
pAshAMkushadhara paramapavitra
mUShikavAhana munijanaprEma ||1||
gajavadana bEDuve | gourItanaya
gajavadana bEDuve |
mOdadi ninnaya pAdava tOrO
sAdhuvaMditane AdaradiMdali 
sarasijanAbha shrI puraMdaraviThalana
niruta neneyuvaMte daya mADO ||2||
gajavadana bEDuve | gourItanaya
gajavadana bEDuve
trijagavaMditane sujanara porevane ||
gajavadana bEDuve |bEDuve | bEDuve||..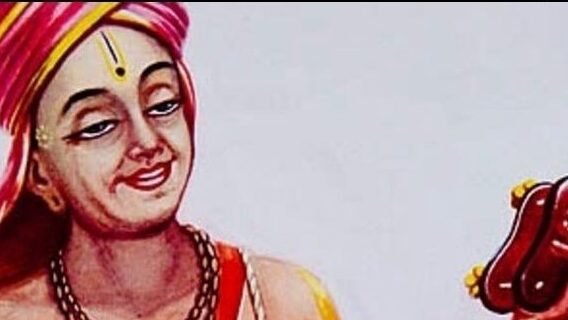 Gajavadana Beduve – : -Meaning:
gajavadana bEduvE gauri thanaya
trijaga vanditane sujanara porevanE
the one who has the elephant face, I pray to you Gowri's son
You are worshiped by all the people in the three worlds (The earth, the world above and the world below), you are the protector of good people .
pAshAnkusha dara parama pavithra
mooshika vAhana munijanaprEmA
the one who has the weapons the noose (pasa) and angusam.
You are the most sacred and supreme God. the one who has the mouse as his vehicle
and you are always the one who is affectionate and also loved by sages.
mOdadi ninnaya pAdava tOrO
sAdhu vanditane Adaradindali
sarsijanAbha shri purandara vithalana
niruta neneyuvante daya mADO
show me your sacred feet and allow me to sing with pleasure at your feet. You are the one who is worshiped by sadhus and sages respectfully, show mercy and always make me remember to worship Lord Purandara vittala – the one who has the lotus navel.
Interesting points from the song Gajavadana Beduve : 
Lord Sri Ganesha is the Supreme God. He is the son of Lord MahaShiva and Devi Parvati. Ganesha is popularly worshiped under different names like Parvathi Tanaya, Sumukha, Gajanana, Ekadanta, Kapila, Gajakarna, Lambodara, Ganadhayaksha, Vikath, Vidhnanashaka, Vinayaka, Dhumraketu, Bhalchandra and so on.
Sri Purandaradasa's ankita nama is "Purandara Vittala." we can see his ankita nama in all of his songs.
In Gajavadana Beduve Song, Purandaradasa prays to Lord Ganesha for strength and attention so that he can sing about Lord Purandara(Lord Vishnu) all the time!
Lord Ganesh holds the "pasha," or noose, which is traditionally held by the God of Death, yama. Here, it means that He is above God of death, Lord Yama, and that if you come to His feet, you will not face death. Another weapon is Angusam- An elephant might grow to be really large. but, under the power of the weapon Angusam used by mahouts, an elephant can be handled and trained. So, Lord Ganesha, likewise, holds it and demonstrates the importance of self-control.
ಗಜವದನ ಬೇಡುವೆ / Gajavadana Beduve – ಕನ್ನಡ ಸಾಹಿತ್ಯ
ರಾಮಕೃಷ್ಣರು ಮನೆಗೆ ಬಂದರು / Ramakrishnaru Manege Bandaru -ಪುರಂದರದಾಸರು
ಇದೋ ನಿಮಗೆ ವಂದನೆ / Ido Nimage Vandane
ರಾಮಕೃಷ್ಣರು ಮನೆಗೆ ಬಂದರು / Ramakrishnaru Manege Bandaru -ಪುರಂದರದಾಸರು
ರಾಮಕೃಷ್ಣರು ಮನೆಗೆ ಬಂದರು / Ramakrishnaru Manege Bandaru -ಪುರಂದರದಾಸರು
Note:
If you find any kind of mistakes in the above lyrics, Please feel free to mention them in the comments section or you can contact us. We'll correct them as early as possible!
Also, Please submit a request for your favourite song lyrics, if you were unable to find one.