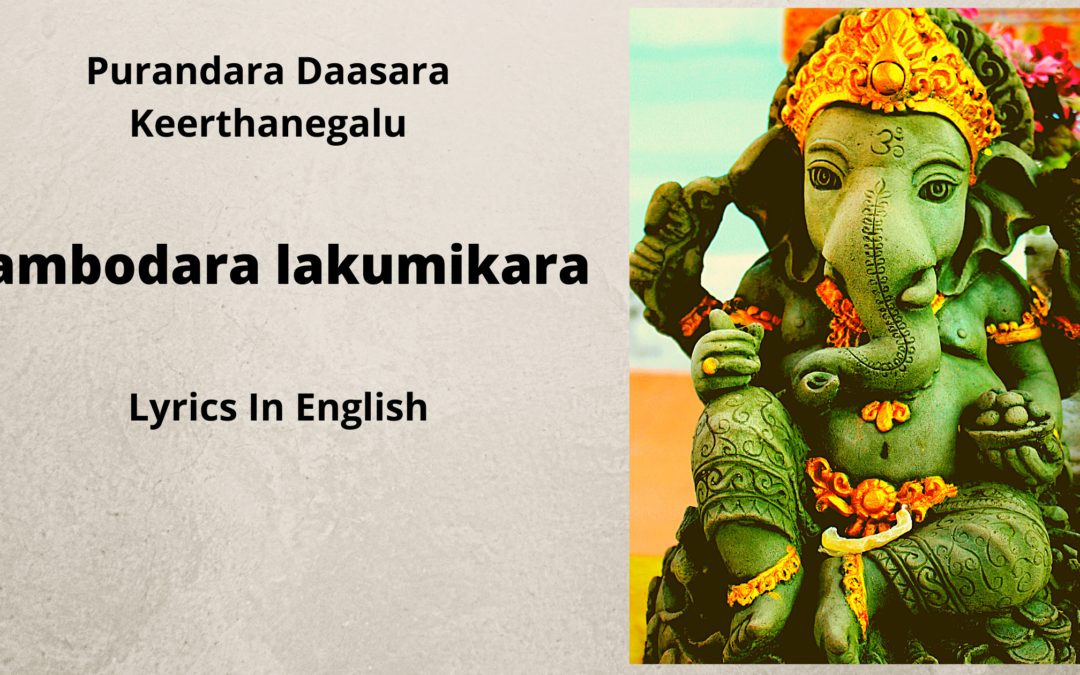 Ragam: Malahari
Talam: Rupakam (Chathurasra Jathi)
Pillari Geethalu
Composer: Purandaradasa
Raghavendra Raghavendra Raghavendra Yenniri / ರಾಘವೇಂದ್ರ ರಾಘವೇಂದ್ರ ರಾಘವೇಂದ್ರ ಎನ್ನಿರಿ -ಪ್ರಸಿದ್ಧ (Famous) ರಾಘವೇಂದ್ರ ಸ್ವಾಮಿ ಪೂಜಾ ಹಾಡು–ಕನ್ನಡದಲ್ಲಿ ಸಾಹಿತ್ಯ
Hendathi obbalu maneyolagiddare / ಹೆಂಡತಿ ಒಬ್ಬಳು ಮನೆಯೊಳಗಿದ್ದರೆ – ಕನ್ನಡ ಭಾವಗೀತೆ
Bhagyada Lakshmi Baramma / ಭಾಗ್ಯದ ಲಕ್ಷ್ಮಿ ಬಾರಮ್ಮ – ಪ್ರಸಿದ್ಧ(Famous) ಶ್ರೀ ಲಕ್ಷ್ಮಿ ಪೂಜಾ ಹಾಡು
Elegalu nooraaru Bhaavada Elegalu Nooraaru / ಎಲೆಗಳು ನೂರಾರು ಭಾವದ ಎಳೆಗಳು ನೂರಾರು – – Kannada Bhaavageethegalu
Lambodara lakumikara -Purandara Daasara Keerthanegalu- Lyrics in English
Lambodara lakumikara
ambaa suta amara vinuta
lambodara lakumikara

Shree gaNanatha sindhura varNa
karuNa sagara Kari vadana ||
Shree gaNanatha sindhura varNa
karuNa sagara Kari vadana ||
Lambodara lakumikara
ambaa suta amara vinuta
lambodara lakumikara

Shree gaNanatha sindhura varNa
karuNa sagara Kari vadana
Shree gaNanatha sindhura varNa
karuNa sagara Kari vadana
Lambodara lakumikara
ambaa suta amara vinuta
lambodara lakumikara

Siddha chaarana gaNa sevita
siddhi vinayaka te namo namo
Siddha chaarana gaNa sevita
siddhi vinayaka te namo namo

Lambodara lakumikara
ambaa suta amara vinuta
lambodara lakumikara

sakala vidya adi poojita
sarvotama te namo namo
sakala vidya adi poojita
sarvotama te namo namo

lambodara lakumikara
ambaa suta amara vinuta
lambodara lakumikar

Lambodara lakumikara -One of the Famous Purandara Daasara Keerthanegalu- Lyrics in English
"Lambodara Lakumikara," a Famous song, is the first tune that budding artists learn to sing. This song is dedicated to Lord Ganesha.
Meaning of the Song :
Shree gaNanatha: O Lord Vinayaka, the lord of the pramadha ganas,
sindhuravarna : one who has a fair & bright complexion(vermillion).
karunasaagara : one who has infinite karuna or the ocean of compassion
kari vadana : one who has the face of of the mighty elephant.
Lambodara : one with a huge belly.
lakumikara : one who holds goddess lakshmi (Siddhi) in his ashta ( hand)
and Vinayaka is the one who grants that siddhi.
Ambasuta : The son of Amba(Ambabhavani) i.e. Parvathi.
Amara vinutha : you are worshiped by the amaras (the devas).

siddhachaarana : He who governs and worshiped by celestials like the devas, siddhas, and caranas
ganasevitha :who is worhsiped by ganas and huambeings. Seva also means worship.
siddhivinayaka : One who removes obstacles and grants success.
the namo namo : My salutations to him.

sakalavidya,aadi pujitha : One who knows everything,one who is worshipped before any other diety.
sarvotthama : you are the best of all.
the namo namo : My salutations to him.
Purandara Dasaru:
This song is composed by Purandara Dasaru. He is also referred to as the father of Karnataka Shastreeya Sangeetha.
Purandara Dasaru, who always concluded his songs with a salute to Lord Purandara Vittala, is believed to have composed as many as 75,000 – 475,000 songs. However, only about 1000 are known today. All his musical compositions are in Kannada.. Purandara Dasaru is among the great saints of India in his understanding of the power of music and its appeal to illiterate common folk.
Raghavendra Raghavendra Raghavendra Yenniri / ರಾಘವೇಂದ್ರ ರಾಘವೇಂದ್ರ ರಾಘವೇಂದ್ರ ಎನ್ನಿರಿ -ಪ್ರಸಿದ್ಧ (Famous) ರಾಘವೇಂದ್ರ ಸ್ವಾಮಿ ಪೂಜಾ ಹಾಡು–ಕನ್ನಡದಲ್ಲಿ ಸಾಹಿತ್ಯ
Hendathi obbalu maneyolagiddare / ಹೆಂಡತಿ ಒಬ್ಬಳು ಮನೆಯೊಳಗಿದ್ದರೆ – ಕನ್ನಡ ಭಾವಗೀತೆ
Bhagyada Lakshmi Baramma / ಭಾಗ್ಯದ ಲಕ್ಷ್ಮಿ ಬಾರಮ್ಮ – ಪ್ರಸಿದ್ಧ(Famous) ಶ್ರೀ ಲಕ್ಷ್ಮಿ ಪೂಜಾ ಹಾಡು
Elegalu nooraaru Bhaavada Elegalu Nooraaru / ಎಲೆಗಳು ನೂರಾರು ಭಾವದ ಎಳೆಗಳು ನೂರಾರು – – Kannada Bhaavageethegalu
Lambodara lakumikara / ಲಂಬೋದರ ಲಕುಮಿಕರ – ಪುರಂದರ ದಾಸರ ಕೀರ್ತನೆಗಳು – ಕನ್ನಡ ಸಾಹಿತ್ಯ
Note:
If you find any kind of mistakes in the above lyrics, Please feel free to mention them in the comments section or you can contact us. We'll correct them as early as possible!
Also, Please submit a request for your favorite song lyrics, if you were unable to find one.