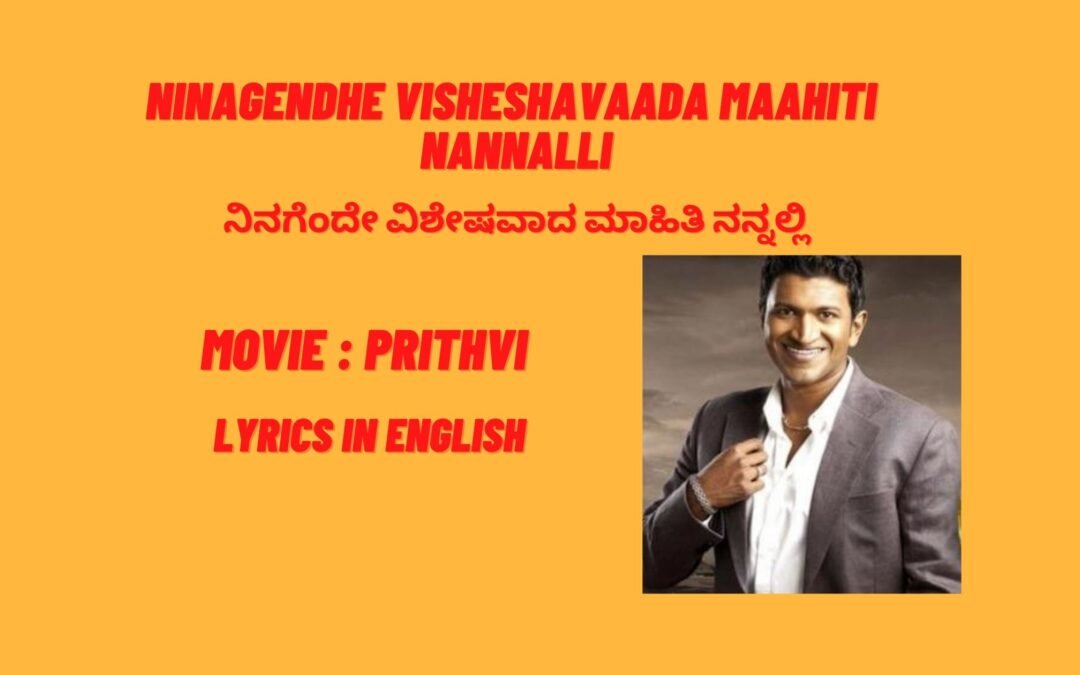 Movie / Album : Prithvi
Language: Kannada
Lyricist : Jayanth Kaikini
Singer's: Hansika Iyer, Kunal Ganjawala
Music Director : Manikanth Kadri
Label Anand Audio Year 2010
Starring : Avinash, Parvati Menon, Puneeth Rajkumar, Sadhu Kokila
Ninagendhe Visheshavaada Maahiti Nannalli / ನಿನಗೆಂದೇ ವಿಶೇಷವಾದ ಮಾಹಿತಿ ನನ್ನಲ್ಲಿ- Lyrics in English
Ninagendhe Visheshavaada Maahiti Nannalli
Ninagintaa Visheshavaada Sangathi Innelli
Eega Maathanaadade Enanu, Neenu Koothiru Kannalli
Nanagantu Visheshavaada Akkare Ninnalli
Ninagintaa Visheshavaada Acchari innelli
Eega Neenu Elliye hodaru, Naanu Haajaru Bennalli
Nee Nodutha Maiyya Marevaaga, Santhoshave Roopugondanthe
Ee Tholina Bandha Dhorethaaga, Munjaavali Kanasu Kandante
Kayyalli Kai Iddaree Namma Hejjeyondaagide
Gadiyaara Bandhaagide, Ohooooo!
Thusu Doora Iddagale Nannaa Nantu Hecchagide!
Eeganthu Hucchagide, Ohooooo!
Ninagendhe Visheshavaada Mohavu nannalli
Ninagintaa Visheshavaada Jeevavu Innelli
Naanaadalu Hoda Maathellaa, Nee Sokalu Poortiyaadante
Maathillade Muddugarevaaga, Ee Baayige Jeeva Bandanthe
Bari Ninna Kuritaagiye Nanna Hrudaya Paradaadide
Ninnatta Saridaadide, Ohooooo!
Hosadaagi Ninnondige Mattee Matte Olavaagide
Innoonu Balavaagide, Ohooooo!
Ninagendhe Visheshavaada Maahiti Nannalli
Ninagintaa Visheshavaada Sangathi Innelli
Eega Maathanaadade Enanu, Neenu Koothiru Kannalli
Ninagendhe Visheshavaada Maahiti Nannalli / ನಿನಗೆಂದೇ ವಿಶೇಷವಾದ ಮಾಹಿತಿ ನನ್ನಲ್ಲಿ-
Hrudaya samudra kalaki / ಹೃದಯ ಸಮುದ್ರ ಕಲಕಿ – ಕನ್ನಡ ಸಾಹಿತ್ಯ
Mayadantha male bantanna / ಮಾಯದಂತ ಮಳೆ ಬಂತಣ್ಣ – ಕನ್ನಡ ಜಾನಪದ ಹಾಡುಗಳು – ಕನ್ನಡ ಸಾಹಿತ್ಯ
ಕಲಿಯುಗದೊಳು ಹರಿನಾಮವ ನೆನೆದರೆ – Kaliyugadolu Harinaamava Nenedare – ಸಾಹಿತ್ಯ ಶ್ರೀ ಪುರಂದರ ದಾಸರು
Note:
If you find any kind of mistakes in the above lyrics, Please feel free to mention them in the comments section or you can contact us. We'll correct them as early as possible!
Also, Please submit a request for your favourite song lyrics, if you were unable to find one.